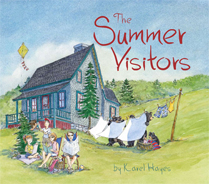 The Summer Visitors
by Karel Hayes

2011, Down East Books
Hardcover, 32 pages, 10-1/2" x 9-1/2"
Ages 4 to 8
$16.95

Books
The Christmas Visitor

The Weirs

The Summer Visitors

The Witches

Snowflake Comes to Stay
The Amazing Journey
of Lucky the Lobster Buoy

The Winter Visitors
Who's Been Here?
A Tale of Tracks
The bears are back! Following her award-winning The Winter Visitors, children's book author and illustrator Karel Hayes traces the interactions between a family of bears and a human family during their summer stay at a lake cottage. Told primarily through pen-and-ink and watercolor illustrations, with only a few dozen words of text, The Summer Visitors is a feast for the senses. Children and parents (and grandparents) alike will delight in following the antics of the bumbling bears as they enjoy the comforts of cottage life, but also try to avoid detection by their human "hosts."

Reviews

Click here for the New York Times - Sunday Book Review

Review by Cat Acree
SUMMER FUN FEELS "JUST RIGHT"
Like The Winter Visitors, The Summer Visitors is told almost entirely with pen-and-ink and watercolor drawings. Author-illustrator Hayes captures the sleepy sweetness of summer days, which slowly give way to changing leaves when the family must bid farewell to the little cottage. The soft drawings bring a dreamlike quality to the cottage, and the smiling bears and befuddled humans will delight children and parents alike.

Through the Looking Blass Children's Book Reviews (excerpt)
Review by Marya Jansen-Gruber
This book with its minimal text tells a charming story about a family of bears who like the comforts of life but who are determined to keep their presence a secret. Children are sure to laugh out loud when they see what the bears get up to.